Spartan Athletics
TEAM BEFORE SELF, TIRELESS PREPARATION, FIERCE IN COMPETITION

Casey Field | Director of Athletics | 704.864.7744, ext.187

Gaston Day's Athletic Department exists to fulfill the school's mission and play an integral role in our students' overall education; this is done through competitive team experiences that reinforce departmental core values and build school spirit.

Roughly 70% of GDS students in 6th-12th grades participate in one or more sports. Gaston Day has a proud athletic tradition. We have been home to state champions, athletic award recipients, and individuals receiving college athletic scholarships. We have also been home to students-athletes who gave their best to their team on a daily basis without much public recognition. We take great pride in everyone who has worn a Spartan uniform through the years.
V soccer (win) and V baseball (loss) split with Carmel Christian at home today. Both teams play at Northside tomorrow.

MS soccer defeated York Prep this afternoon. Congrats!

Track & Field Senior Day! t.co/R0N418QRl5

Show Media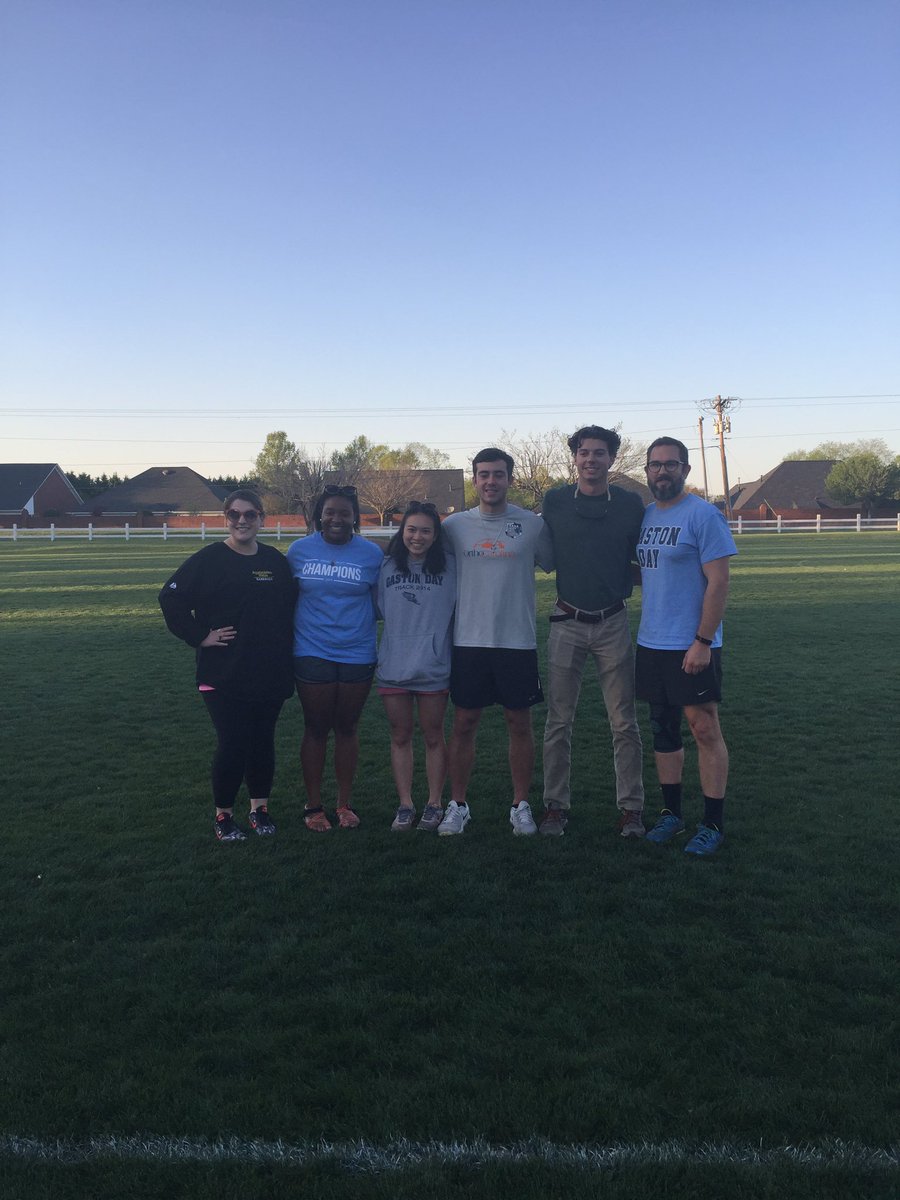 Varsity Athletics
---
| Boys | Girls |
| --- | --- |
| Basketball: Trent McCallister | Basketball: Antonio Leach |
| Cross Country: Lisa Mulvey | Cross Country: Lisa Mulvey |
| Golf: Troy Carter | Golf: Troy Carter |
| Soccer: Greg Lekavich | Soccer: Greg Lekavich |
| Swimming: Trey McMillan | Swimming: Trey McMillan |
| Tennis: Anne-Bee Van Meter | Tennis: Neil Sheehan |
| Track & Field: Josh Pietras | Track & Field: Josh Pietras |
| Baseball: Chris Carrara | Volleyball: Derek Bing |
 Middle School Athletics
---
| Boys | Girls |
| --- | --- |
| Baseball: Henry Odom | Basketball: Ananda Gebreyesus |
| Basketball: DaRon Curry | Cross Country: Josh Pietras |
| Cross Country: Josh Pietras | Soccer: Ananda Gebreyesus |
| Soccer: Mark Wright | Volleyball: Sara Wade |
Championships & Recent Program Accomplishments
---
NCISAA Champions
1977 Girls' Basketball
1978 Girls' Basketball
1979 Girls' Basketball
1990 Girls' Tennis
1991 Boys' Tennis
1996 Boys' Tennis
2004 Boys' Basketball
2005 Girls' Basketball
2006 Girls' Basketball
2007 Girls' Basketball
Varsity Girls' Tennis
2012 NCISAA Tournament: Runner-Up
2013 NCISAA Tournament Quarterfinalist
2014 MAC Regular Season Champion
2014 NCISAA Tournament Semifinalist
2015 MAC Regular Season Champion
2015 MAC Tournament Champion
2015 NCISAA Tournament Semifinalist
Varsity Boys' Tennis
2011 NCISAA Tournament: Tie-7th Place
2012 SPAA Regular Season Champion
2012 NCISAA Tournament: Tie-6th Place
2013 NCISAA Tournament: Runner-Up
2014 NCISAA Tournament: Quarterfinalist
Varsity Boys' Soccer
2010 SPAA Regular Season Champion
2010 SPAA Conference Tournament Champion
2010 NCISAA Tournament Quarterfinalist
2011 SPAA Regular Season Champion
2011 SPAA Conference Tournament Champion
2011 NCISAA Tournament Semifinalist
2013 SPAA Regular Season Co-Champion
2013 SPAA Tournament Champion
2013 NCISAA Tournament Semifinalist
2014 MAC Regular Season Champion
2014 MAC Tournament Champion
2014 NCISAA Tournament Runner-up
Varsity Girls' Soccer
2014 SPAA Regular Season Co-Champion
2014 SPAA Tournament Champion
2015 NCISAA Tournament Quarterfinalist
2016 MAC Regular Season Champion
2017 NCISAA Tournament Quarterfinalist
NCISAA Runners-Up
1978 Girls' Tennis
1979 Girls' Tennis
1988 Girls' Volleyball
2002 Boys' Basketball
2003 Boys' Tennis
2004 Girls' Basketball
2006 Girls' Cross Country
2012 Girls' Tennis
2013 Boys' Tennis
2014 Boys' Soccer
2018 Boys' Basketball
Varsity Girls' Basketball
2011-12 SPAA Regular Season Co-Champion
2011-12 SPAA Conference Tournament Champion
2011-12 NCISAA Tournament Quarterfinalist
2013-14 SPAA Regular Season Champion
2013-14 NCISAA Tournament Quarterfinalist
2017-18 NCISAA Tournament Quarterfinalist

Varsity Boys' Basketball
2011-12 NCISAA Tournament Semifinalist
2012-13 SPAA Regular Season Champion
2012-13 NCISAA Tournament Semifinalist
2013-14 NCISAA Tournament Quarterfinalist
2014-15 NCISAA Tournament Quarterfinalist
2015-16 NCISAA Tournament Quarterfinalist
2016-17 MAC Regular Season Champion
2016-17 MAC Tournament Champion
2016-17 NCISAA Tournament Semifinalist
2017-18 MAC Regular Season Champion
2017-18 MAC Tournament Champion
2017-18 NCISAA Tournament Runner-Up
Varsity Boys' Track
2011 NCISAA Meet: 6th Place
2012 NCISAA Meet: 7th Place
2013 NCISAA Meet: 7th Place
2015 NCISAA Meet: 4th Place
Varsity Boys' Cross Country
2012 NCISAA Meet: 7th place
Varsity Boys' Golf
2012 SPAA Tournament Champions
2013 SPAA Tournament Champions
2014 SPAA Tournament Champions
Varsity Boys' Swimming
2016 NCISAA Meet: 7th Place
2017 NCISAA Meet: 8th Place
2018 MAC Meet Champion
Spartan Athletic Hall of Fame
---
Class of 2010
Judy Nash Joye, Coach and AD 1967-1994
Carol Doster Hannah, Class of 1977
Lee Doster Ward, Class of 1979
Stephanie Rauch, Class of 1980
Jamie Massey, Class of 1982
Class of 2011
Ronnie Digh, Coach and AD 1969-1976
Lud Hodges, Class of 1973
Andy Warlick, Class of 1975
Sandra Garrison Hodges, Class of 1975
T. J. Taylor, Class of 2004
Class of 2012
Donnie Self, Class of 1992
Brandis Raley-Ross, Class of 2006
Class of 2013
Susie Stinnett Tippett, Class of 1991
John D. Hannon, Class of 2003

Class of 2014
Dwight Feemster, Class of 1972
David Adams, Class of 1985

Class of 2015
Lucy Doster Poche', Class of 1982
Ben Little, Class of 2005

Class of 2016
Gene Deal, Coach 1977-1982
Josh Lutkus, Class of 2002

Class of 2017
Mr. & Mrs. William S. Henry, Class of 1977
Mr. & Mrs. George F. Henry III, Class of 1978
Jim Henry, Class of 1980
Mrs. Jeanne Henry Quinn and Mr. Michael Quinn
Class of 2018
Nisha Long Rolle, Class of 2007